Frostbite Board Review Questions, Free Cold Injury CME Quiz
Frostbite Board Review Questions: Free CME Quiz
Frostbite CME Quiz courtesy of Med-Challenger Online Medical Education
This week's Med-Challenger free CME quiz - Frostbite - the quick quiz covers the classification of frostbite, the terminology associated with cold-induced injuries, the physiologic processes that lead to tissue loss from frostbite, and the ideal temperature range of water for rewarming frostbitten extremities.
A free sample Frostbite question included below. The full Frostbite CME quiz is free online for a limited time. You can earn AMA CME credit - and now you can earn ANCC contact hours as well! Play now.
Take the Full Quiz Online
100% Free, No-Obligation
You must be signed in to earn CME credits, get feedback, and rank.
When you create a free Med-Challenger account, you'll get a free 100-question board review question bank in your specialty with 5 CME credits, instantly!
QQ211209: Drug Allergy
1st Parwaiz
2nd Hgg
3rd eddoc1
Here's this week's sample CME board review question on frostbite:
A 29-year-old man presents with localized pain and paresthesia to his fingertips after exposure to cold weather.
Paresthesia resolves within minutes with rewarming.
What is this patient's diagnosis?
Answer Options:
frostnip
frostbite
pernio
chilblain
The correct answer is:
frostnip
Educational Objective:
Explain the terminology associated with cold-induced injuries.
Key Points:
Frostnip refers to a cold-induced, localized area accompanied by both pain and paresthesia. Frostnip is rapidly reversible with rewarming and does not result in tissue damage.
Explanation:
This patient has frostnip, which is associated with significant vasoconstriction and is accompanied by discomfort in the involved parts (see Figure 1). If it is left unattended, frostnip can eventually progress to frostbite.
Figure 1 - Frostnip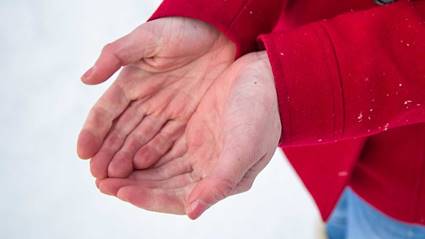 Pernio, also referred to as chilblain, is characterized by localized inflammatory lesions from acute or repetitive exposure to damp cold temperatures above freezing.
Chilblains are thought to be due to cold-damaged microvessels that leak and cause inflammation, leading to small, red swellings that are usually painful, itchy, and tender to touch. In severe cases, the surface of the skin may break and sores or blisters can develop. The inflammation characteristic of chilblain is similar (albeit much less severe) to that found when frostbitten extremities are thawed (see Figure 2).
Figure 2 - Local inflammation due to chilblain.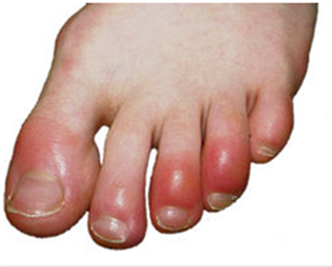 Frostbite is a localized, cold-induced ischemic injury that results in temporary or permanent tissue damage (depending on the depth of frostbite). In contrast to frostnip and chilblain, frostbitten tissues become pain free, which makes a person lose awareness and, therefore, protective behavioral reflexes.
References:
Freer L, et al. Frostbite (chapter 9). In: Auerbach PS, et al. Auerbach's Wilderness Medicine. 7th ed., 2017:197-222.
Zafren K. Danzl DF. Frostbite and nonfreezing cold injuries (chapter 131). In: Walls R, et al. Rosen's Emergency Medicine: Concepts and Clinical Practice. 9th ed., 2018:1735-1742.
---
Play the full Med-Challenger Quick Quiz for CME Credit:
Take the Full Quiz Online
100% Free, No-Obligation
Every free board review "Question of the Week" is just a sampling of a larger set of free board review questions featured in Med-Challenger's latest CME Quick Quiz.
Our insanely popular CME Quick Quiz provides FREE board review questions and the opportunity to earn free CME credits every week. It's a fun way to stay up-t0-date and see how your knowledge ranks with peers. All you need is a free online Med-Challenger account. Most recent 5 quizzes are available. Sign up now.
Med-Challenger provides online medical education products and services to physicians, nurses, and other medical specialists as well as medical training programs and healthcare groups world-wide via its web-based medical education library and world-class assessment platform at challengercme.com.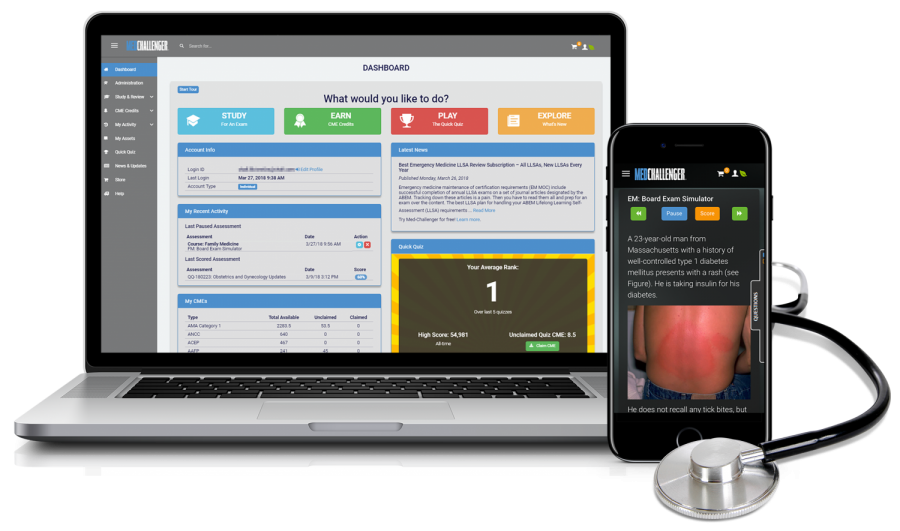 ---
More from Med-Challenger
The Leader in Online Board Review, CME Courses, and Medical Education
Did you like this?
Get more free medical Q&A and informative CME articles.
Subscribe to the Medical Education Blog
Subscribe
Get notified of more Q&A challenges.
More from Med-Challenger's Medical Education Blog
Board Review & CME Offers
Med-Challenger provides online medical education, top-rated board review courses, annual MOC and CME credit solutions for physicians, nurses, PAs and students. Take advantage of our current offers.
---
---