Photosensitivity Dermatoses - Clinical Patient Case of the Week
Photosensitivity Dermatoses - Clinical Patient Case of the Week
Try this free Dermatology Case Q&A courtesy of Med-Challenger.
Try this case and test your knowledge of photosensitivity dermatoses.
A 25-year-old woman with a history of intermittent asthma has recently returned from a vacation trip to Cancun. The patient developed prominent blisters on the dorsum of her hand (see Figure).
Figure 1.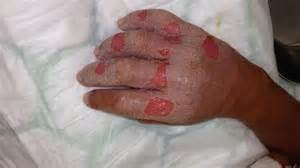 You also note redness and swelling; the patient also tells you that she is in pain. She was treated with wound care and, upon returning to the United States, the blisters have resolved, but she still has denudated and macerated areas of the skin.
The patient spent time swimming in the ocean, swimming in a cenote (a natural sinkhole from the collapse of limestone bedrock), and recalls helping a bartender squeeze limes to prepare margaritas. The patient is concerned about a tropical dermatologic disease and is asking you for advice.
What is the likely cause of this condition?
Answer Options:
sea water
fresh water from the cenote
hookworm infection
lime juice
The correct answer is:
lime juice
Educational Objective:
Recognize the manifestations of phytophotodermatitis.
Key Point:
Contact with lime or other citric juices followed by exposure to the sun may cause a blistery rash phytophotodermatitis or lime dermatitis.
Explanation:
Phytophotodermatitis is a condition characterized by the development of edema, erythema, and blisters on sun-exposed areas after contact with vegetables (eg, cilantro, parsley) or citrus fruits (eg, lime.... sometimes referred to as "margarita burn"). The rash follows the distribution of the fluid exposure. Occasionally, the lesions can become secondarily infected.
Contact with seawater may predispose vulnerable patients to infections with Vibrio species or Mycobacterium marinum. Vibrio-associated cellulitis can cause blisters but is usually more severe and seen in people with underlying liver disease.
Contact with freshwater may predispose patients to different organisms, such as Aeromonas, that can cause necrotizing cellulitis.
Hookworms from cats and dogs may be associated with cutaneous larva migrans, a self-limited, creeping eruption caused by the mobilization of larvae under the skin.
Treatment for phytophotodermatitis involves the use of cool compresses, emollients, topical analgesics, or anesthetics and, occasionally, topical steroids. Patients are also advised to avoid further sun exposure.
Figures: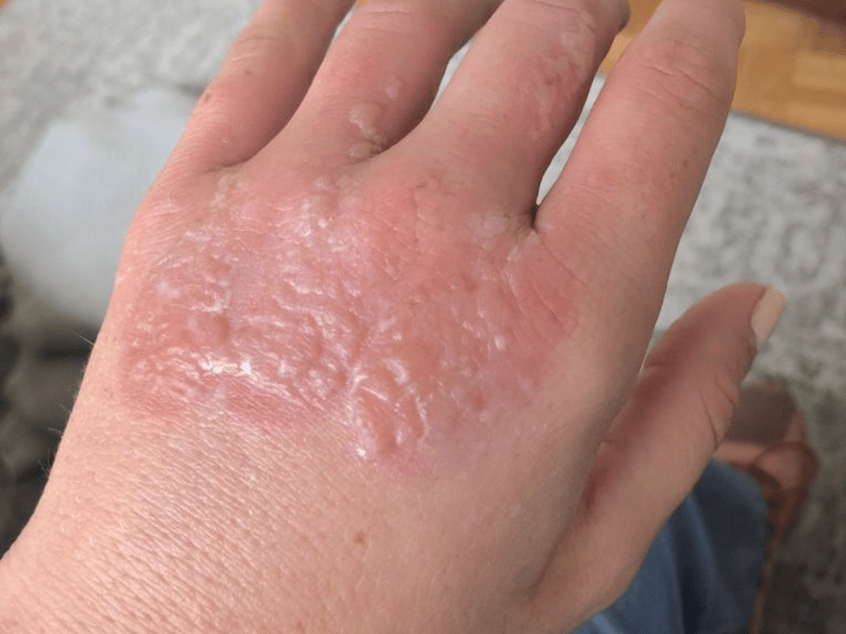 Phytophotodermatitis from lime juice ("Margarita Burn")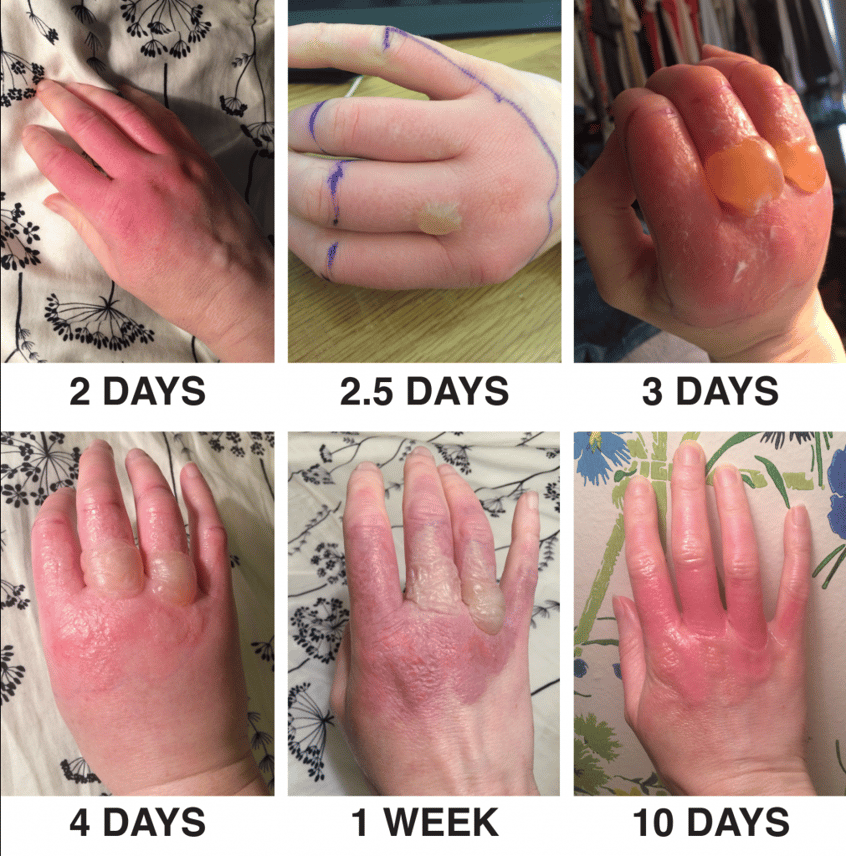 Stages of Phytophotodermatitis from lime juice ("Margarita Burn")
References:
Hankinson A, Lloyd B, Alweis R. Lime-induced phytophotodermatitis. J Community Hosp Intern Med Perspect. 2014;4(4):25090.
Raam R, DeClerck B, Jhun P, Herbert M. Phytophotodermatitis: the other "Lime" disease. Ann Emerg Med. 2016;67(4):554-556.
---
Play the full Med-Challenger Quick Quiz for CME Credit:
Every free board review "Question of the Week" is just a sampling of a larger set of free board review questions featured in Med-Challenger's latest CME Quick Quiz.
Our insanely popular CME Quick Quiz provides FREE board review questions and the opportunity to earn free CME credits every week. It's a fun way to stay up-to-date and see how your knowledge ranks with peers. All you need is a free online Med-Challenger account. Most recent 5 quizzes are available. Sign up now.
Med-Challenger provides online medical education exam review and continuing medical education products and services to physicians, nurses, and other medical specialists as well as learning management systems for medical training programs and healthcare groups world-wide via its web-based medical education library and world-class assessment platform at https://app.challengercme.com.