Pregnancy with Pre-existing Medical Illness Exam Review, Free CME Quiz
Pregnancy with Pre-existing Medical Illness Board Review Questions: Free CME Quiz
Pregnancy CME Quiz courtesy of Med-Challenger Online Medical Education
Take the Full Quiz Online
100% Free, No-Obligation
This week's Med-Challenger free CME quiz - Pregnancy with Pre-existing Medical Illness - the quick quiz covers signs of labor onset in a pregnant woman with a low cervical spinal cord injury, common etiologies of coma during pregnancy due to diabetic ketoacidosis, the effect of pregnancy on T helper cell dependent autoimmune diseases, and the definition of eclampsia.
A free sample Pregnancy with Pre-existing Medical Illness question included below. The full Pregnancy with Pre-existing Medical Illness CME quiz is free online for a limited time. You can earn AMA CME credit - and now you can earn ANCC contact hours as well! Play now.
You must be signed in to earn CME credits, get feedback, and rank.
When you create a free Med-Challenger account, you'll get a free 100-question board review question bank in your specialty with 5 CME credits, instantly!
QQ220113: COVID-19 During Pregnancy
1st Toohey72170
2nd UpTown
3rd DrBlaine
Here's this week's sample CME board review question on pregnancy with pre-existing medical illness:
A 21-year-old insulin dependent diabetic is found comatose at home. She is 17 weeks pregnant and is found to have a serum glucose of 386 mg/dl (normal: 70-110 mg/dl).
The most accurate statement regarding diabetic ketoacidosis (DKA) in pregnancy is...
Answer Options:
Fetal mortality is unusual.
Glucose levels tend to be higher in pregnant women than non-pregnant patients with DKA.
Hyperemesis is one of the most common precipitants.
Serum pH tends to be lower in pregnant than non-pregnant patients with DKA.
The correct answer is:
Hyperemesis is one of the most common precipitants.
Educational Objective:
Discuss common etiologies of coma during pregnancy due to diabetic ketoacidosis.
Key Points:
Hyperemesis and noncompliance or errors in insulin dosage are the most common precipitants of diabetic ketoacidosis in the pregnant patient. Admission is often indicated to correct dehydration and more carefully adjust glucose control.
Explanation:
The serum pH may be deceptively normal in the pregnant patient, because the initial pH tends to be higher in pregnancy due to physiologic hyperventilation. DKA is rare in patients with gestational diabetes, and serum glucose may be only moderately elevated because the fetus continues to secrete insulin and use glucose.
The rate of congenital malformations in patients with diabetes is increased threefold or fourfold compared with the nondiabetic population, with anomalies being more likely in pregnant women with poor glycemic control. Preeclampsia and placental infarction secondary to vascular disease may result in impaired fetal development and stillbirth
Maternal mortality is rare in appropriately treated DKA. Fetal mortality rates are relatively high, ranging from 10 to 35%.
References:
Gorgas DL. Cooper R. Comorbid Medical Emergencies During Pregnancy (Chapter 179) In: Walls R, et al., Rosen's Emergency Medicine: Concept and Clinical Practice. 9th ed. 2018: 2259-2276.e4
---
Play the full Med-Challenger Quick Quiz for CME Credit:
Take the Full Quiz Online
100% Free, No-Obligation
Every free board review "Question of the Week" is just a sampling of a larger set of free board review questions featured in Med-Challenger's latest CME Quick Quiz.
Our insanely popular CME Quick Quiz provides FREE board review questions and the opportunity to earn free CME credits every week. It's a fun way to stay up-t0-date and see how your knowledge ranks with peers. All you need is a free online Med-Challenger account. Most recent 5 quizzes are available. Sign up now.
Med-Challenger provides online medical education products and services to physicians, nurses, and other medical specialists as well as medical training programs and healthcare groups world-wide via its web-based medical education library and world-class assessment platform at challengercme.com.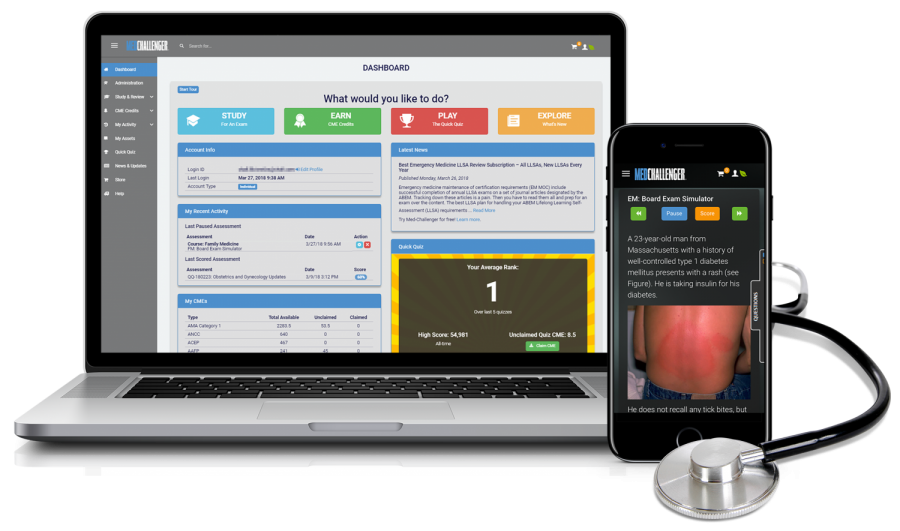 ---
Related Posts
Acute Pregnancy Complications – Acute Medical / Surgical Complications in Pregnancy, Free CME Quiz – Earn AMA and ANCC Credits Free
More from Med-Challenger
The Leader in Online Board Review, CME Courses, and Medical Education
Did you like this?
Get more free medical Q&A and informative CME articles.
Subscribe to the Medical Education Blog
Subscribe
Get notified of more Q&A challenges.
More from Med-Challenger's Medical Education Blog
Board Review & CME Offers
Med-Challenger provides online medical education, top-rated board review courses, annual MOC and CME credit solutions for physicians, nurses, PAs and students. Take advantage of our current offers.
---
---