Infectious Gastroenteritis Exam Review Questions, Free CME Quiz
Infectious Gastroenteritis Board Review Questions: Free CME Quiz
Infectious Gastroenteritis CME Quiz courtesy of Med-Challenger Online Medical Education
Take the Full Quiz Online
100% Free, No-Obligation
This week's Med-Challenger free CME quiz - Infectious Gastroenteritis - the quick quiz covers the classic presentation of enterohemorrhagic Escherichia coli (EHEC), identifying a case presentation of the Anisakis parasite, diagnosis of ciguatera poisoning, and acquisition and treatment of cryptosporidium.
A free sample Infectious Gastroenteritis question included below. The full Infectious Gastroenteritis CME quiz is free online for a limited time. You can earn AMA CME credit - and now you can earn ANCC contact hours as well! Play now.
You must be signed in to earn CME credits, get feedback, and rank.
When you create a free Med-Challenger account, you'll get a free 100-question board review question bank in your specialty with 5 CME credits, instantly!
QQ220126: Sepsis Syndromes
1st JamesT
2nd blunoser
3rd eddoc1
Here's this week's sample CME board review question on infectious gastroenteritis:
Four hours after eating grouper bought at a market in New York, a 45-year-old woman develops abdominal cramping, nausea, vomiting, and a metallic taste in the mouth.
She obtained some relief after drinking an antacid; however, during the last couple of hours she began to develop a burning sensation around her mouth and felt as if she had a loose tooth on the left side of her mandible.
Her husband offered her some hot tea, which the patient perceived as being cold.
When she presents to you, she has sinus bradycardia (heart rate: 50 beats/minute), but the remainder of her examination is unremarkable.
The most likely diagnosis in this scenario is...
Answer Options:
conversion disorder
neurotoxic shellfish poisoning
ciguatera poisoning
scombroid
The correct answer is:
Ciguatera poisoning
Educational Objective:
Discuss ciguatera fish poisoning.
Key Points:
The patient has ciguatera fish poisoning which was caused by her ingestion of grouper (a reef fish).
Explanation:
The clinical presentation of ciguatera poisoning includes gastrointestinal manifestations (e.g., diarrhea, vomiting, nausea, abdominal discomfort), neurologic manifestations (e.g., blurred vision, perioral paresthesias, dysuria, sensation of loose teeth, pruritus, and, occasionally, thermal dysesthesia), and cardiac manifestations (e.g., hypertension, bradycardia, arrhythmias).
Shellfish poisoning can cause neurotoxic poisoning with manifestations similar to ciguatera poisoning, but the symptoms typically occur immediately following ingestion. Shellfish can also cause a paralytic syndrome. There is no history that this patient has ingested shellfish.
Scombroid poisoning is caused by the ingestion of histamine, and flushing and rash are prominent symptoms.
Conversion disorder is a diagnosis of exclusion, and this patient has evidence of a somatic disease, including bradycardia and gastrointestinal manifestations.
Note: The nomenclature of psychosomatic illnesses has undergone multiple changes over the last few years; however, the term "conversion disorder" has endured.
References:
Travelers' Health. Centers for Disease Control and Prevention. Updated January 30, 2014.
Lange WR. Ciguatera fish poisoning. American Family Physician Journal. 1994;50(3):579-584.
Swift AE, Swift TR. Ciguatera. Journal of Toxicology: Clinical Toxicology. 1993;31(1):1-29.
American Psychiatric Association. Somatic Symptom and Related Disorders: Conversion Disorder. Diagnostic and Statistical Manual of Mental Disorders. 5th. Arlington, VA: American Psychiatric Publishing; 2013. 309-27.
---
Play the full Med-Challenger Quick Quiz for CME Credit:
Take the Full Quiz Online
100% Free, No-Obligation
Every free board review "Question of the Week" is just a sampling of a larger set of free board review questions featured in Med-Challenger's latest CME Quick Quiz.
Our insanely popular CME Quick Quiz provides FREE board review questions and the opportunity to earn free CME credits every week. It's a fun way to stay up-t0-date and see how your knowledge ranks with peers. All you need is a free online Med-Challenger account. Most recent 5 quizzes are available. Sign up now.
Med-Challenger provides online medical education products and services to physicians, nurses, and other medical specialists as well as medical training programs and healthcare groups world-wide via its web-based medical education library and world-class assessment platform at challengercme.com.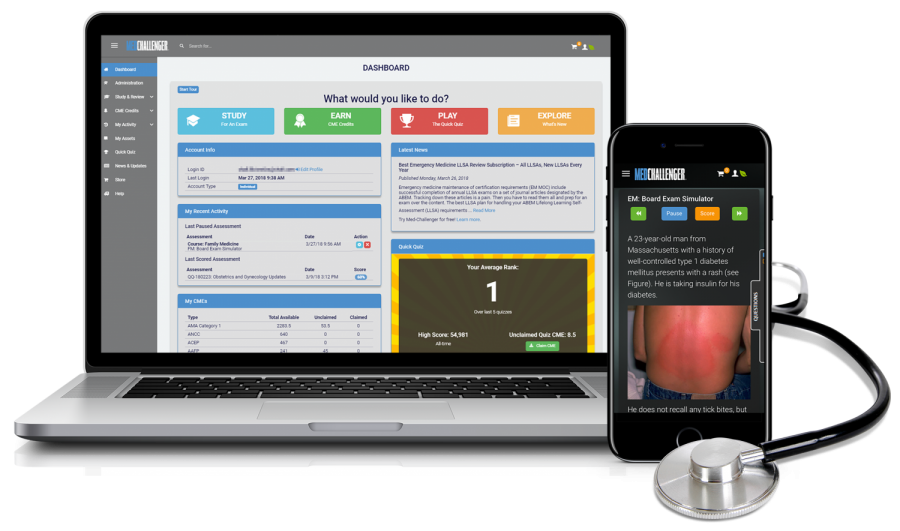 ---
More from Med-Challenger
The Leader in Online Board Review, CME Courses, and Medical Education
Did you like this?
Get more free medical Q&A and informative CME articles.
Subscribe to the Medical Education Blog
Subscribe
Get notified of more Q&A challenges.
More from Med-Challenger's Medical Education Blog
Board Review & CME Offers
Med-Challenger provides online medical education, top-rated board review courses, annual MOC and CME credit solutions for physicians, nurses, PAs and students. Take advantage of our current offers.
---
---