High Altitude Disorders Exam Review Questions, Free CME Quiz
High Altitude Disorders Board Review Questions: Free CME Quiz
High Altitude Disorders CME Quiz courtesy of Med-Challenger Online Medical Education
Take the Full Quiz Online
100% Free, No-Obligation
This week's Med-Challenger free CME quiz - High Altitude Disorders - the quick quiz covers the use of acetazolamide in high-altitude illness, complications of high-altitude in pregnancy, the typical presentation of high-altitude cerebral edema, and the treatment of high-altitude pulmonary edema.
A free sample High Altitude Disorders question included below. The full High Altitude Disorders CME quiz is free online for a limited time. You can earn AMA CME credit - and now you can earn ANCC contact hours as well! Play now.
You must be signed in to earn CME credits, get feedback, and rank.
When you create a free Med-Challenger account, you'll get a free 100-question board review question bank in your specialty with 5 CME credits, instantly!
QQ220222: Hypertension
1st Person of Interest
2nd jioia
3rd dbouc
Here's this week's sample CME board review question on high altitude disorders:
A 20-year-old man is planning a trip to snowboard at a ski area located at an elevation of 9200 feet.
He had a previous episode of acute mountain sickness (AMS) at an altitude of 11,000 feet.
How should you advise him about the use of acetazolamide for AMS prophylaxis?
Answer Options:
Acetazolamide prophylaxis is not needed because AMS rarely occurs below 10,000 feet.
He should not take acetazolamide if he has a sulfa allergy.
He should begin the medication 3 days prior to his ascent and take the medication for his entire trip.
Taking one-half of the conventional treatment dose is sufficient as prophylaxis and may decrease peripheral paresthesias, an adverse side-effect (AE) of acetazolamide.
The correct answer is:
Taking one-half of the conventional treatment dose is sufficient as prophylaxis and may decrease peripheral paresthesias, an adverse side-effect (AE) of acetazolamide.
Educational Objective:
Explain the use of acetazolamide in high-altitude illness.
Key Point:
Peripheral paresthesia is a notable AE of acetazolamide. For this reason, the recommended dosage for AMS prophylaxis is acetazolamide 125 mg twice daily rather than the conventional 250 mg dose that is recommended for treatment of AMS. A recent study investigating the effectiveness of 62.5 mg acetazolamide for prophylaxis found that even this dose was sufficient as AMS prophylaxis.
Explanation:
Ideally, people should ascend to altitude slow enough to allow the body to gradually adapt to high altitude without the aid of medications. However, slow ascent is not always an option, and doing so does not prevent AMS in all people.
Acetazolamide accelerates acclimatization to high altitude and can be taken as prophylaxis by patients with a history of AMS or in those unable to engage in a slow ascent (eg, soldiers, mountain rescue personnel).
If it is taken for prophylaxis, then acetazolamide should be started 24 hours (not 3 days) before ascent and only continued for 2 days (not the entire trip) at high altitude unless there is continued ascent.
Acetazolamide is a carbonic anhydrase inhibitor that induces renal bicarbonate diuresis, causing metabolic acidosis that increases ventilation and arterial oxygenation.
The diuretic effects also attenuate the fluid retention common in patients with AMS. Acetazolamide also lowers cerebrospinal fluid volume and pressure, which may play an additional role in its therapeutic and prophylactic effects at high altitudes.
The other noncarbonic anhydrase inhibitory effects of acetazolamide include advantageous chemoreceptor effects on the ventilatory drive, alterations of cerebral blood flow, relaxation of smooth muscles (eg, in the lung), and upregulation of fluid resorption in the lungs.
If a patient has already begun developing symptoms of AMS, then descent is the best treatment; however, acetazolamide given early in the development of AMS accelerates the resolution of symptoms. A dose of 250 mg acetazolamide at the onset of symptoms and repeated twice daily is the conventional therapy for AMS.
Individuals with a reported sulfa allergy are typically specifically allergic to sulfonamide antibiotics, which contain a hapten N-arylamine (see figure). Studies show that the cross-reactivity to non-antibiotic sulfonamides (acetazolamide, furosemide, etc) or sulfite/sulfate drugs is essentially the same as for patients without a history of sulfa-allergy.
Figure: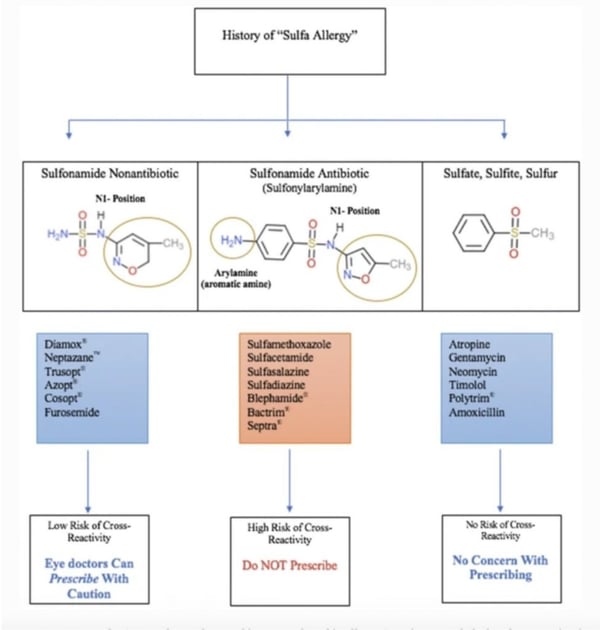 However, studies also show that patients with a sulfonamide antibiotic reaction are intrinsically predisposed to higher rates of allergic reactions in general. For example, patients allergic to sulfonamide antibiotics have a higher rate of allergic reactions to penicillins, which are a completely separate chemical class.
Acetazolamide will often be taken in remote settings, and some authors recommend giving a trial course of acetazolamide prior to the high-altitude trip despite the absence of cross-reactivity. Giving a complete course allows for detection of delayed reactions.
The treatment of AMS in children has not been formally studied, but anecdotal experience supports the use of acetazolamide in children. The dosage for children is 2.5 mg/kg twice daily to a maximum of 250 mg.
AMS can occur after ascent to altitudes as low as 8200 feet.
References:
ClinicalTrials.gov. Acetazolamide for the Prevention of High Altitude Illness: a Comparison of Dosing. NCT identifier: NCT01993667.
Elsevier. Acetazolamide drug monograph. First Consult. 2016.
Hackett PH, et al. High altitude medicine and pathophysiology (chapter 2). In: Auerbach PS, et al. Auerbach's Wilderness Medicine. 7th ed., 2017:8-29.
Hackett PH, Shlim DR. The pretravel consultation: altitude illness (chapter 2). In: Centers for Disease Control and Prevention. Travelers' Health. 2017.. Accessed October 12, 2018.
Harris NS. High-altitude medicine (chapter 136) In: Walls R, et al. Rosen's Emergency Medicine: Concepts and Clinical Practice. 9th ed., 2018:1787-1800.
Luks AM, et al. High altitude and preexisting medical conditions (chapter 3). In: Auerbach PS, et al. Auerbach's Wilderness Medicine. 7th ed., 2017:29-39.
Shah, T.J., Moshirfar, M. & Hoopes, P.C. "Doctor, I have a Sulfa Allergy": Clarifying the Myths of Cross-Reactivity. Ophthalmol Ther 7, 211–215 (2018).
---
Play the full Med-Challenger Quick Quiz for CME Credit:
Take the Full Quiz Online
100% Free, No-Obligation
Every free board review "Question of the Week" is just a sampling of a larger set of free board review questions featured in Med-Challenger's latest CME Quick Quiz.
Our insanely popular CME Quick Quiz provides FREE board review questions and the opportunity to earn free CME credits every week. It's a fun way to stay up-t0-date and see how your knowledge ranks with peers. All you need is a free online Med-Challenger account. Most recent 5 quizzes are available. Sign up now.
Med-Challenger provides online medical education products and services to physicians, nurses, and other medical specialists as well as medical training programs and healthcare groups world-wide via its web-based medical education library and world-class assessment platform at challengercme.com.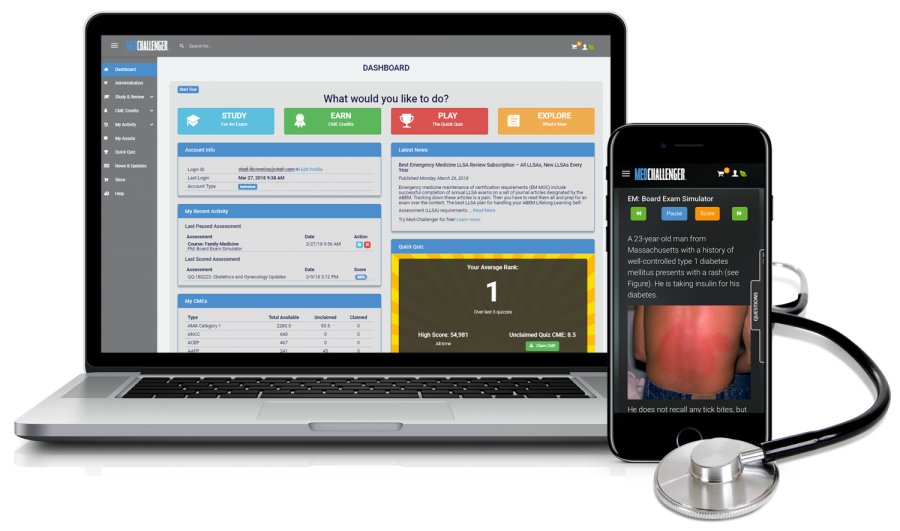 ---
More from Med-Challenger
The Leader in Online Board Review, CME Courses, and Medical Education
Did you like this?
Get more free medical Q&A and informative CME articles.
Subscribe to the Medical Education Blog
Subscribe
Get notified of more Q&A challenges.
More from Med-Challenger's Medical Education Blog
Board Review & CME Offers
Med-Challenger provides online medical education, top-rated board review courses, annual MOC and CME credit solutions for physicians, nurses, PAs and students. Take advantage of our current offers.
---
---