Thromboembolic Disease Board Exam Review Questions, CME
Thromboembolic Disease Board Review Questions: Free CME Quiz
Thromboembolic Disease CME Quiz courtesy of Med-Challenger Online Medical Education
Take the Full Quiz Online
100% Free, No-Obligation
This week's Med-Challenger free CME quiz - Thromboembolic Disease - the quick quiz covers which types of anticoagulants are effective in preventing post-surgical thromboembolism in high risk post-operative patient, the appropriate use of imaging and other diagnostic tests in a patient with suspected venous thromboembolic disease, when it is appropriate to apply cardioversion for atrial fibrillation, and best practice for the discontinuation of anticoagulants before major surgery and restarting during convalescence.
A free sample Thromboembolic Disease question included below. The full Thromboembolic Disease CME quiz is free online for a limited time. You can earn AMA CME credit - and now you can earn ANCC contact hours as well! Play now.
You must be signed in to earn CME credits, get feedback, and rank.
When you create a free Med-Challenger account, you'll get a free 100-question board review question bank in your specialty with 5 CME credits, instantly!
QQ220420: Hypersensitivity Reactions
1st eddoc1
2nd Cetirizine
3rd Deero
Here's this week's sample CME board review question on thromboembolic disease:
A 62-year-old woman follows up for a recent hospitalization for a severe urinary tract infection.
Since returning home 100 days ago, she has developed swelling and pain in her left calf and, over the past 24 hours, she has become winded on minimal activity.
She has a history of hypertension for which she takes levofloxacin. She has no history of peptic ulcer disease or malignancy.
She reports that she refused low-molecular weight heparin prophylaxis while an inpatient because she dislikes needles.
Physical examination findings include a pulse of 95 beats/minute, blood pressure of 100/60 mmHg, and oxygen saturation of 92%. The lungs are clear.

There are no cardiac abnormalities, Chest x-ray and EKG are normal.
The most appropriate next step is:
Answer Options:
D-dimer assay
Ventilation–perfusion scan
Computed tomography angiography (CTA) scan
Doppler ultrasonography of left leg for deep venous thrombosis (DVT)
The correct answer is:
Computed tomography angiography (CTA) scan
Educational Objective:
Know the appropriate use of imaging and other diagnostic tests in a patient with suspected venous thromboembolic disease.
Key Point:
Wells criteria guide the diagnostic workup of patients with suspected venous thromboembolism.
Explanation:
A common scoring system to assess the likelihood of pulmonary embolism (PE) is the Wells Clinical Prediction Rule. Three points are awarded for the presence of calf swelling or tenderness, and 3 points for absence of an alternative diagnosis. In addition, 1.5 points are awarded for tachycardia, recent history of immobilization, or history of DVT/PE. One point is awarded for hemoptysis or evidence of malignancy.
This patient has a Wells score of 4.5 (evidence of DVT =3) and a predisposing factor (recent hospitalization =1.5). In addition, she has modest tachycardia (95/min) and below-normal oxygen saturation, not otherwise explained.
Based on these findings, and the history of exertional dyspnea, it is likely she has suffered a pulmonary embolism.
The key question, here, is... which test is likely to be more informative, computed tomography angiography (CTA) or doppler ultrasound of the left leg?
The selection of ultrasound would give no information about a pulmonary embolus or its hemodynamic burden. The CTA would confirm both an embolism and, by inference, a clot in the left leg. Where CTA is not available, one would confirm a thrombus by doppler and infer an embolic event from the clot.
Given the clinical findings, a D-dimer test would be superfluous. One would not conclude that she has not had a pulmonary embolus if the test was negative.
Due to its low rates of sensitivity and specificity, a ventilation-perfusion scan is not a cost-effective test for the evaluation of possible PE.
References:
Weitz JI, Ginsburg JS. Venous Thrombosis and Embolism, Goldman-Cecil Medicine, 2020; 74: 476-487
Venous thromboembolic diseases: diagnosis, management and thrombophilia testing. London: National Institute for Health and Care Excellence (NICE); 2020 Mar 26. (NICE Guideline, No. 158.)
Play the full Med-Challenger Quick Quiz for CME Credit:
Take the Full Quiz Online
100% Free, No-Obligation
Every free board review "Question of the Week" is just a sampling of a larger set of free board review questions featured in Med-Challenger's latest CME Quick Quiz.
Our insanely popular CME Quick Quiz provides FREE board review questions and the opportunity to earn free CME credits every week. It's a fun way to stay up-t0-date and see how your knowledge ranks with peers. All you need is a free online Med-Challenger account. Most recent 5 quizzes are available. Sign up now.
Med-Challenger provides online medical education products and services to physicians, nurses, and other medical specialists as well as medical training programs and healthcare groups world-wide via its web-based medical education library and world-class assessment platform at challengercme.com.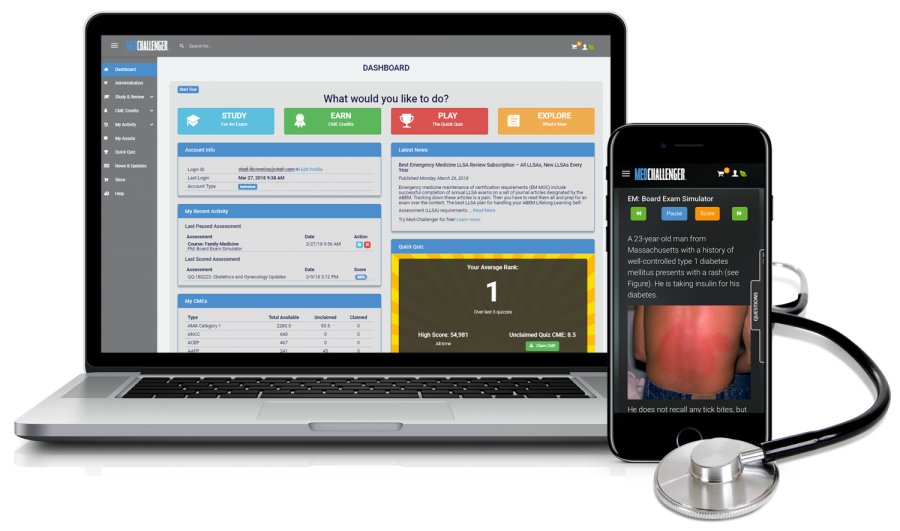 ---
More from Med-Challenger
The Leader in Online Board Review, CME Courses, and Medical Education
Did you like this?
Get more free medical Q&A and informative CME articles.
Subscribe to the Medical Education Blog
Subscribe
Get notified of more Q&A challenges.
More from Med-Challenger's Medical Education Blog
Board Review & CME Offers
Med-Challenger provides online medical education, top-rated board review courses, annual MOC and CME credit solutions for physicians, nurses, PAs and students. Take advantage of our current offers.
---
---