Otologic Trauma Board Exam Review Questions, Free CME Quiz
Otologic Trauma Board Review Questions: Free CME Quiz
Otologic Trauma CME Quiz courtesy of Med-Challenger Online Medical Education
Take the Full Quiz Online
100% Free, No-Obligation
This week's Med-Challenger free CME quiz - Otologic Trauma - the quick quiz covers appropriate treatment options for chondritis and perichondritis, delayed management of auricular hematomas, management of a foreign body in the ear canal, and rupture of the round window in the inner ear.
A free sample Otologic Trauma question included below. The full Otologic Trauma CME quiz is free online for a limited time. You can earn AMA CME credit - and now you can earn ANCC contact hours as well! Play now.
You must be signed in to earn CME credits, get feedback, and rank.
When you create a free Med-Challenger account, you'll get a free 100-question board review question bank in your specialty with 5 CME credits, instantly!
QQ220428: Asthma and Other Obstructive Lung Disease
1st Toohey72170
2nd tdpac66
3rd dbouc
Here's this week's sample CME board review question on otologic trauma:
A mother presents with her 16-year-old son, who is complaining that "the room started spinning suddenly" while he was lifting a heavier weight than ever before with his friends at the gym.
He is vomiting, but he is otherwise alert and denies headache.
What other finding will most likely be present in this patient?
Answer Options:
ruptured tympanic membrane
tinnitus and conductive hearing loss
continued vertigo even when lying still with closed eyes in a quiet environment
ocular nystagmus elicited by pneumatic otoscopy
The correct answer is:
ocular nystagmus elicited by pneumatic otoscopy
Educational Objective:
Diagnose rupture of the round window in the inner ear.
Key Point:
Perilymph fistulas occur from rupture of the round or oval window in the inner ear and presents with vertigo and dizziness.
Explanation:
In light of his history, this patient's presentation is most consistent with rupture of the round or oval window in the inner ear, which creates an instant perilymph fistula.
Such a rupture permits the air pressure changes from the middle ear to now suddenly be transmitted to the vestibular apparatus, which can elicit vertigo that abruptly starts and stops with any pressure changes in the middle ear.
This direct pressure connection between the middle and inner ear can be documented with pneumatic otoscopy (Hennebert sign).
Rupture of the round or oval window with a resulting perilymph fistula can also be caused by the sudden changes in pressure associated with flying, scuba diving, coughing, or sneezing.
The vertigo subsides when there is no noise or other input to the middle ear. There is variable hearing loss associated with this condition; it may be fluctuating, complete, or intermittent. In any case, it is a sensorineural hearing loss (not conductive).
Tinnitus is not associated with perilymph fistulas.
Perilymph fistula can also occur in the context of temporal bone trauma, in which case pneumatic otoscopy should not be performed (due to possible concomitant rupture of the tympanic membrane and other structures, thereby leading to direct communication with cerebrospinal fluid).
In addition, using pneumatic otoscopy in a trauma patient might further displace tiny, fractured ear ossicles.
References:
Flint PW, et al, eds. Cummings: Otolaryngology: Head & Neck Surgery. 7th ed., 2020.
Goldman B, Johns P. Vertigo. In: Tintinalli JE, et al, eds. Emergency Medicine: A Comprehensive Study Guide. 9th ed., 2020.
Play the full Med-Challenger Quick Quiz for CME Credit:
Take the Full Quiz Online
100% Free, No-Obligation
Every free board review "Question of the Week" is just a sampling of a larger set of free board review questions featured in Med-Challenger's latest CME Quick Quiz.
Our insanely popular CME Quick Quiz provides FREE board review questions and the opportunity to earn free CME credits every week. It's a fun way to stay up-t0-date and see how your knowledge ranks with peers. All you need is a free online Med-Challenger account. Most recent 5 quizzes are available. Sign up now.
Med-Challenger provides online medical education products and services to physicians, nurses, and other medical specialists as well as medical training programs and healthcare groups world-wide via its web-based medical education library and world-class assessment platform at challengercme.com.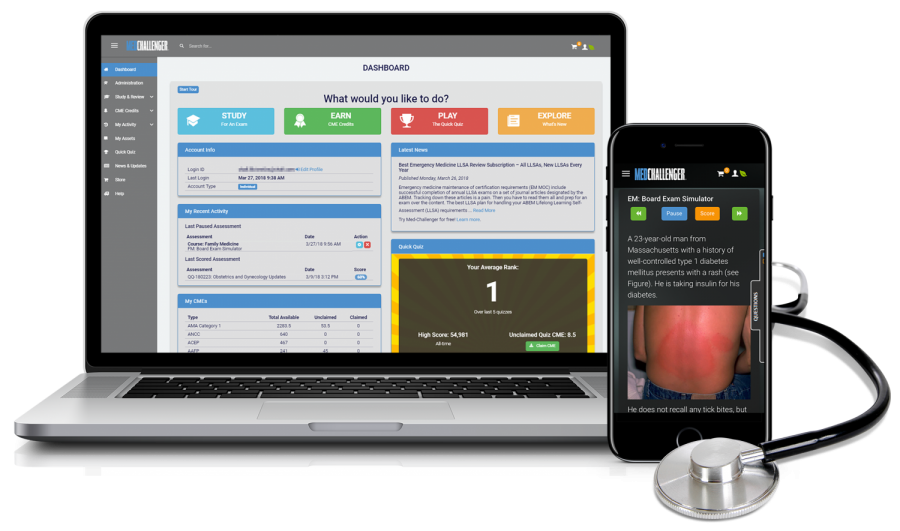 ---
More from Med-Challenger
The Leader in Online Board Review, CME Courses, and Medical Education
Did you like this?
Get more free medical Q&A and informative CME articles.
Subscribe to the Medical Education Blog
Subscribe
Get notified of more Q&A challenges.
More from Med-Challenger's Medical Education Blog
Board Review & CME Offers
Med-Challenger provides online medical education, top-rated board review courses, annual MOC and CME credit solutions for physicians, nurses, PAs and students. Take advantage of our current offers.
---
---