Cranial Nerve Disorders, Free CME Quiz, Earn Free CME Credit
Cranial Nerve Disorders: Free CME Quiz
Cranial Nerve Disorders CME Quiz courtesy of Med-Challenger Online Medical Education
Take the Full Quiz Online
100% Free, No-Obligation
This week's Med-Challenger free CME quiz - Cranial Nerve Disorders - the quick quiz covers the differential diagnosis of diabetic mononeuropathy, the prognosis for diabetic cranial mononeuropathy, the management for cerebral venous thrombosis, and the signs and symptoms of a trochlear nerve lesion.
A free Cranial Nerve Disorders question included below. The full Cranial Nerve Disorders CME quiz is free online for a limited time. You can earn AMA CME credit - and now you can earn ANCC contact hours as well! Play now.
You must be signed in to earn CME credits, get feedback, and rank.
When you create a free Med-Challenger account, you'll get a free 100-question board review question bank in your specialty with 5 CME credits, instantly!
QQ220819: Women's Health and Maternity Care
1st SYR17
2nd TDF
3rd norm
Here's this week's sample CME board review question on Cranial Nerve Disorders:
A patient presents with her head tilted to the right side.
Upon questioning, she says that she has double vision when looking to one side that resolves when she tilts her head.
On examination, the patient is unable to move the left eye down and medially.
What cranial nerve (CN) is most likely affected?
Answer Options:
oculomotor nerve (CN III)
trochlear nerve (CN IV)
trigeminal nerve (CN V)
abducens nerve (CN VI)
The correct answer is:
trochlear nerve (CN IV)
Educational Objective:
List the signs and symptoms of a trochlear nerve lesion.
Key Point:
A trochlear nerve lesion results in the inability to move the eye down and medially.
Explanation:
The trochlear nerve (CN IV) innervates the superior oblique muscle, which rotates and moves the eye medially and down (toward 5 o'clock if the eye were a clock face). The Latin word trochlea translates as "pulley." One can think of dysfunction of the trochlear nerve (CN IV) as tipping the head laterally to the opposite (contralateral) side of the affected eye in an attempt to see their inferior and medial environment with an eye that cannot move straight down or down and medially (BOTH of these movements require the superior oblique, with the straight down movement being a combination of the superior oblique and inferior rectus working together; whereas the down and medial movement is accomplished by the superior oblique alone – see the second figure below).
Essentially, the head rotates the malfunctioning eye (and by default the other eye as well) to a 5 o'clock position.
Pearl:
The inferior rectus and medial rectus cannot combine to compensate for a paralyzed superior oblique muscle. Notice that the inferior rectus by itself moves the eye down and laterally, not just straight down.
Follow this link to a detailed discussion of an isolated trochlear nerve palsy (updated in 2021): Cranial Nerve 4 Palsy
Review the following figures: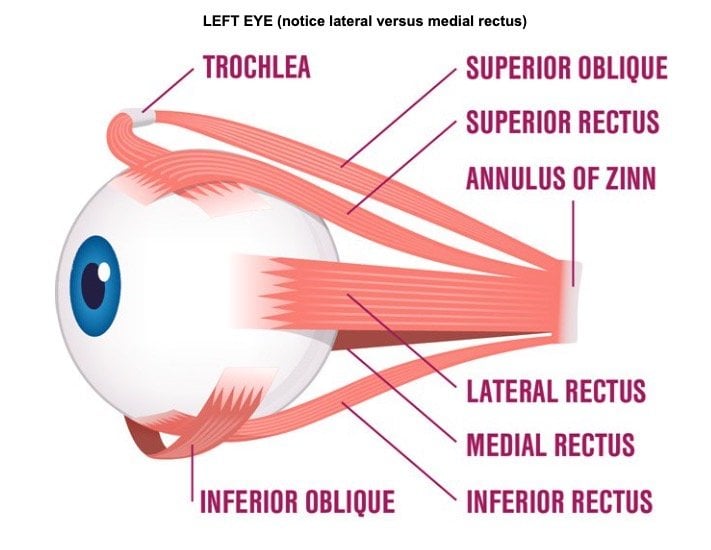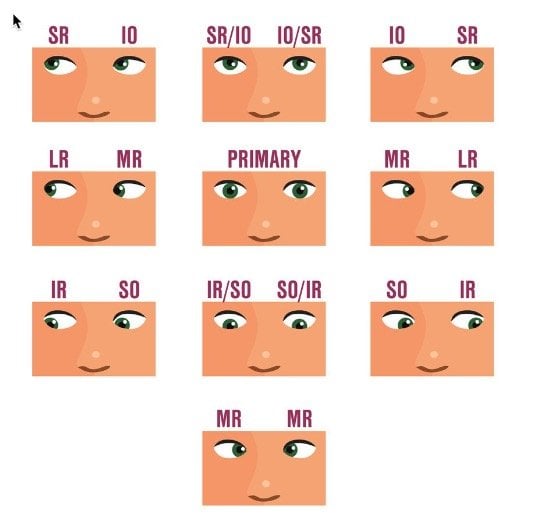 References:
Stettler BA. Brain and cranial nerve disorders (chapter 95). In: Walls R, et al. Rosen's Emergency Medicine: Concepts and Clinical Practice. 9th ed., 2018:1290-1297.
Play the full Med-Challenger Quick Quiz for CME Credit:
Take the Full Quiz Online
100% Free, No-Obligation
Every free board review "Question of the Week" is just a sampling of a larger set of free board review questions featured in Med-Challenger's latest CME Quick Quiz.
Our insanely popular CME Quick Quiz provides FREE board review questions and the opportunity to earn free CME credits every week. It's a fun way to stay up-t0-date and see how your knowledge ranks with peers. All you need is a free online Med-Challenger account. Most recent 5 quizzes are available. Sign up now.
Med-Challenger provides online medical education products and services to physicians, nurses, and other medical specialists as well as medical training programs and healthcare groups world-wide via its web-based medical education library and world-class assessment platform at challengercme.com.