All New Med-Challenger FUSE Joint Commission CME
We've got a new look, new capabilities, and lots of new features. Challenger has released the all new Med-Challenger FUSE Learning Management System (LMS), starting with our revamped Joint Commission courses.
If you need to demonstrate ongoing certification for the Joint Commission, Med-Challenger FUSE offers continually updated CME and certificates for individuals and groups.
We've got you covered in:
Subscriptions start as low as $12 per month.
Trauma Center CE
Stroke Center CE
Cardiac Center CE

Advanced Life Support & Resuscitation Center CE

Over 100 Board-style Questions

√

√

√

√

AMA PRA Category 1, ACEP, and ANCC Credits

√

√

*also includes AAFP credits

√

√

Provides Certificate with Course Name

√

√

√

√
Introducing Med-Challenger FUSE - the best in Interactive Medical Learning
We are proud to unveil Med-Challenger FUSE, an innovative front-end platform that sets new standards in online medical education. Med-Challenger FUSE has been meticulously designed to provide an unparalleled learning experience, boasting a range of exclusive features that are distinctively Challenger. Here's a glimpse into the advanced capabilities of Med-Challenger FUSE:
Sophisticated Content Handling:

Didactic Text & Multimedia Integration: Seamlessly blends narrative text with images, offering diverse lesson formatting and standard text options for a rich learning experience.
Enhanced Video and Audio Features: Incorporates embedded video and audio content, with the flexibility to launch videos in a separate window or embed them directly within the course material.
Interactive Q&A Sessions: Engages learners with embedded question-and-answer segments, reinforcing knowledge through active participation.
Comprehensive Assessments: Features fully integrated assessments, providing thorough evaluation and feedback on learner progress.

Advanced AI Integration:

Smart AI Components: Integrates AI-driven components, both embedded and launchable, to enhance the learning experience with personalized insights and interactive elements.
AI-Enhanced PDFs: Utilizes AI to enrich PDF content, allowing for dynamic inclusion in integrated AI calls and interactive discussions.

User-Centric Design:

The interface of Med-Challenger FUSE is crafted for ease of use, ensuring smooth navigation and a user-friendly experience, making complex information accessible and engaging.
Med-Challenger FUSE is more than just an educational tool; it's a comprehensive solution for the evolving needs of medical professionals. Its diverse content handling capabilities, combined with AI-driven personalization, make it a standout choice for those seeking to excel in the medical field. Experience the future of medical education with Med-Challenger FUSE.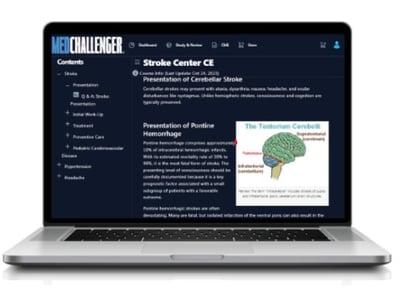 New Flexible Subscription Options for Our CME and Learning Products
At Challenger Corporation, we understand that learning and professional development are ongoing. That's why we're thrilled to announce our new subscription model for all our CME and learning products. This flexible pricing structure is designed to cater to the diverse needs and preferences of our users. Here's what you can expect from our revamped subscription options:
Monthly Subscription: Ideal for those who prefer short-term access or wish to explore our offerings. Enjoy full access to content and updates during your subscription period.

Annual Subscription: A perfect balance of value and commitment. This option provides year-long access, including all updates released throughout the year.

Lifetime Subscription: The ultimate investment in your professional development. With a one-time payment, gain lifetime access to our resources. This means you'll receive all future updates and additions to our products, ensuring you always have the most up-to-date information at your fingertips.
Benefits of Our Subscription Model:
Continuous Updates: No matter which subscription you choose, you'll receive all current and future updates to the products during your active subscription period.
Flexibility: Choose a plan that fits your learning pace and professional needs. Upgrade or switch your plan as your requirements evolve.
Uninterrupted Learning: Our subscription model ensures you have continuous access to the latest and most comprehensive educational resources in healthcare.
We believe this new pricing structure will empower more healthcare professionals to access top-tier educational materials in a way that's most convenient and beneficial to them. Stay ahead in your field with Med-Challenger's CME and learning products.
So join us as we embark on this new journey of endless possibilities!
---
Tell us what you think...