Physician Assistant Training LMS
Medical education and clinical training for physician assistant programs.
Turn the education of your physician assistant team into a dream with the best online medical education.
Instantly add online distance learning capabilities to your physician assistant program.
Designed Specifically for Clinical Medical Training
Med-Challenger offers so much more than just a question bank for your students, residents, and fellows. Challenger is both an LMS and an LCMS. Our platform was designed from the ground up specifically for the unique characteristics of clinical medical training.
We knew from the moment we began our platform design that academic medical was the most complex learning environment in education, with overwhelming complexity in curriculum and clinical rotations.
In designing an LMS for medical institutions, we incorporated PGYs, cohorts, and rotations. We built both assignment-based learning and self-directed study into the program. We built in student / faculty communication about assignments. We created management reporting for faculty and administration. We made baseline exams and simulations to provide student progress, to catch outliers - even at the topic level - and provide remediation for them.
We added other tools like custom exam building, prescriptive learning for self-directed student use, exam simulators, testing and knowledge assessments all the way to blueprint-based subtopic structures.
And from the first, we've listened to our customers and incorporated their insights and first hand expertise into academic medical training into our LMS and LCMS.
If you are considering a medical LMS for your institution, we'd like you to consider Med-Challenger.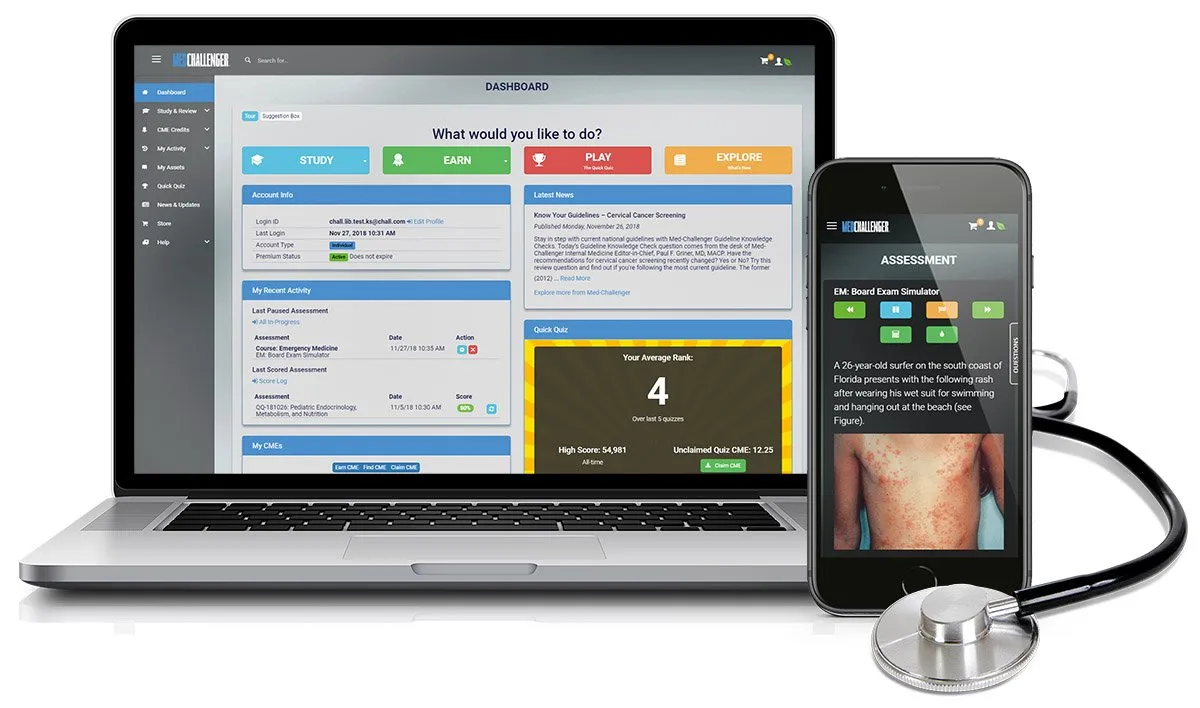 Physician Assistant Requirements Covered
Challenger offers review and teaching courses precisely aligned to content blueprints, suitable for rotation, ITE, and certification review. Our content is maintained by author teams, and updated as the blueprint or standards of care change.
The Physician Assistant courses are built according to the NCCPA PANCE Exam blueprint, with examinations for end-of-rotations (EORs) and clinical certification exam content.
We also have a library of clinical skills courses for training and skills enhancement (e.g. ECG interpretation, auscultation, etc).
Easy pricing. Instant impact. Improved scores and pass-rates.
Users can be added or removed with ease. There are no contract provisions or hassles. No IT headaches. Free support.
Option for monthly or annual payments.
Flexible and affordable, Challenger is the only medical LMS to make this kind of offer.
*One time initial set up fee may apply.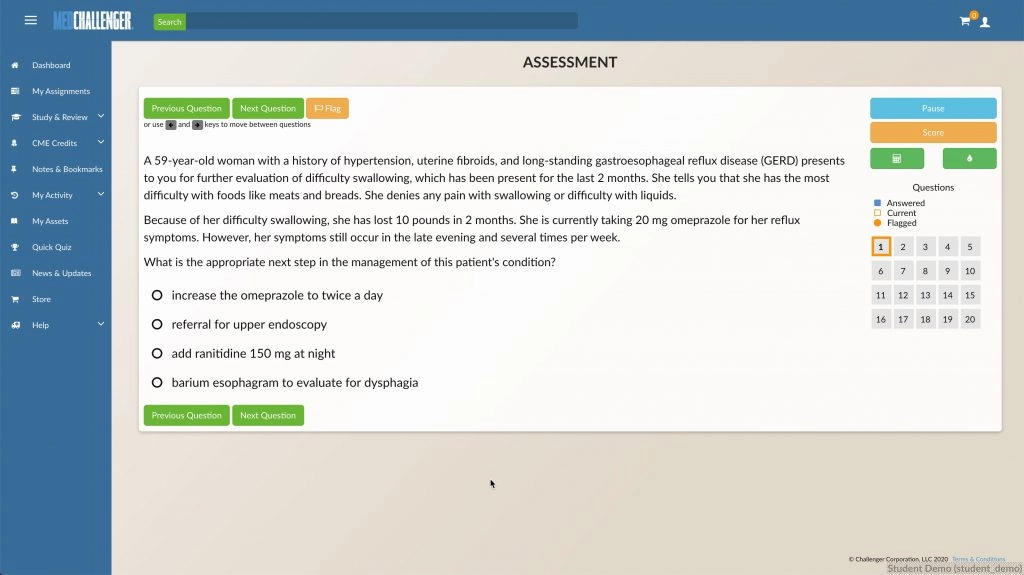 Trustworthy Study Materials
Building and curating reliable, accurate course material is the foundation of Challenger. That's where we started and we've never strayed. Over years, we've built the tools, processes, and talents required to build blueprint-based courses, and maintain and grow them every month. A curriculum is not a static item, but a reflection of knowledge blueprints, of standards of care, and of current guidelines.
The aim of each question is clear, built for a specific purpose in creating the retention that is required to easily pass high stakes exams. Moreover, they are designed to identify knowledge gaps in groups of learners, and outliers within groups.
Precision, directed, organized - these are the hallmarks of Challenger content for your physician assistant program.
"It's more than just great content, it's what you can achieve with it."
We've designed Med-Challenger around all the most common education tasks and professional objectives for both learners and practicing clinicians. You'll be able to deliver and monitor on-point education, assessment, remediation, and improve outcomes for all.
Control education content, activities, and outcomes with less labor. Everything is ready to go and hassle-free. Use our peer-reviewed content. Build your own. No technical requirements or maintenance.
Great Reporting
Easily see much-needed management information across specific years, or across your physician assistant program as a whole.
Great course content is only a part of Challenger's LMS. We've built a management system from the ground up designed for academic medical management.
The Assignment Activity dashboard tells you all about topic, baseline, or exam simulation assignments given to your students. You can see who has completed assignments, how they scored, all the way down to individual tests and users, and the questions they answered incorrectly. You can also see who has not completed an assignment, and email them from right there on the screen to prod them into action.

HotSpots - The Assignment Activity dashboard also comes with Hot Spots, where Q&A that was missed across the entire group is highlighted for each assignment, helping identify group knowledge gaps or areas of focus in a particular topic.

The User Activity dashboard gives you an overview of utilization and scores across specific program years or all students. Who is using the courses? What topics have they been studying? How are they scoring? All of this information, with granularity all the way down to their individual exams, if you want to examine in detail what Q&A is being missed.

The Course Activity dashboard gives you an overview of cohort or student activity inside the course - overall user activity, assessments taken and passed, average scores, pending assignments, and incomplete assignments for every user.
These are capabilities that no other LMS in the medical academic area has, and they were built across years of studying how physician assistant programs operate, and at the request of and in discussions with hundreds of PA program directors and program administrators. Every single student interaction and question answer, and assessment is available instantly, along with summarizations across topics and classes.
Assignments and Calendars
Control assignments, target self-directed remediation to remedy outliers, and monitor performance across everyone.
Some physician assistant programs like to lay out a calendar weeks or months in advance, others leave assessments as faculty decisions, some want more self-directed study with occasional baselines to check for outliers or topical issues that might show up on certification exams or practice exams.
Whatever scenario you have in mind, Med-Challenger's assignment manager is designed to handle it. Assignments have a broad array of options that allow you tailor use of Med-Challenger specifically to your needs:
Start and end dates framing the time during which a student can complete an assessment.
'Hidden' exams that aren't visible until release date.
Individual and class group selection.
Custom passing scores on each exam.
Instructor notifications on completion or not, student reminder emails options.
Prebuilt baselines scheduled at fixed intervals.
We've worked with hundreds of physician assistant training programs, and incorporated all the different teaching and management styles in our assignment and calendaring system. For faculty feedback, and for administration reporting, no other product has the flexibility of Med-Challenger in assignment and management.
Easy communication is the hallmark of a great LMS.
Clinical medical certification is right at the top of the most challenging of professional training scenarios. One of the key features PA program directors and faculty told us they wanted from a medical academic LMS was the ability to easily and quickly communicate and manage assignments of complex topics, and importantly, to follow up on the learning.
With Med-Challenger you can see every student assignment, completion status, scores, all the way down to the individuals tests and answers on every question. Built into the dashboard is the ability to quickly email a student with comments or questions.
In addition to direct communications from within the LMS, new assignments automatically email the assignee a link and information about the assignment, and incomplete assignments past their due dates generate automatic reminder emails.
Streamlining oversight and management reduces the steps and time required to manage the complex training environment.
Adaptive and Prescriptive for Self-Directed Learning
In self-directed study, the amount of material to cover can seem overwhelming. Challenger solves that with two features.
Adaptive learning, or adaptive assessments, record, remember, and target weak areas of knowledge automatically. They keep track of what questions you've seen, what you've answered correctly, and what you've answered incorrectly. They'll automatically target missed and unseen questions with each assessment.
Prescriptive learning is similar. The application knows the topics you've missed, and the topics you've aced. At the end of each assessment, if you have scored below passing in a particular topic in the exam, Challenger will present you with study recommendations and take you directly to those topics, if you wish.
"Med-Challenger has definitely met expectations for the students – as well as the program overall."
"Our program loves having MedC. Everything we want to do is available, strong pre-built content and easy content authoring. And all the controls for online education programs. A surprisingly robust medical education platform."
Build exactly what you want. Save time every year.
Custom exams provide a variety of options for self-study, exam review, and other knowledge assessment activities.
A custom exam, once created and saved, will follow the content source and content allocation parameters you set, every time its used. With custom exams, you can set up preferred ways to self-assess.
Find and select question content easily
Quick-start pre-built templates
Precise question allocation across topics
Assess Clinical Knowledge
Assess practitioner knowledge quality and get instant feedback for clinical care staffing decisions.
Remediate Knowledge Gaps
Instantly remediate any practitioner in detected "areas of weakness" - without labor.
Keep Clinicians Up-to-Date
Continually updated content, guideline information and case-based CME challenges keeps staff up-to-date.
Save Time, Avoid Disruptions
Eliminate out-of-office MOC and CME travel and keep daily operations running smoothly.
Ensure Compliance
Quickly check on annual MOC and CME requirement compliance across staff members. Prevent surprises.
Add Benefits, Lower Costs
Save faculty and staff personal costs, time and worry by giving them top-quality, on-call, professional education resources.
Performance Reports
Export activity and performance data to popular formats like .CSV
Differentiate Your Group
Promote your commitment to healthcare quality through integrated education and monitoring.
No Content or IT Labor
We maintain all content and technical function, so you can focus on driving results without labor and stress.
Frequently Asked Questions
What is Med-Challenger?

Med-Challenger is a medical education company that provides a suite of top-quality online medical education courses for clinicians, distance learning, knowledge assessment, and risk-reduction solutions for clinical training programs, hospitals, and group practices, and a personal lifelong education strategy for healthcare professionals across all major medical specialties for medical certification exam review, maintenance of certification, and specialized CME requirements. Courses are 100% pass-guaranteed and remain up-to-date and useful - year after year. Features and benefits are intelligent, pragmatic, easy-to-use, and effective. Our medical education service is super flexible and powerful, ideal for:

Medical training programs

- physician residencies, nurse programs, PA programs, medical schools
Healthcare organizations

- large and small
Any healthcare practitioner group

interested in improving education efficiency, clinical care outcomes, and otherwise reduce risk, costs, labor and complexity
What content is available?

Content is available for all major specialties and clinician levels. Content addresses all core topics found in a specialty's practice model and relevant for CME / MOC - perfect for medical training education and exam preparation, staff medical knowledge verification and remediation, practitioner maintenance of certification (MOC) requirements, and other special CME credit needs of your team.

Emergency Medicine
Family Medicine
Internal Medicine
Pediatrics
Physician Assistant
Nurse Practitioner
Urgent Care
Joint Commission CME
State-Required CME
Special CME Requirements
Clinical Skills
HIPAA / OSHA Safety
USMLE / NCLEX / Shelf Exams
Professionalism and Risk
What features are included?

Features (benefits) included in general user accounts:

Intelligent self-assessment / exam simulation with guided remediation (save time in review, score higher)
Topic-based CME modules with Practice and Review (Tutor) modes (study how you want, get it done)
CME credit processing with custom CME certificate output (satisfy requirements easily)
Custom exam builder (create your own self-assessment study program)
Free CME "Quick Quiz" games with peer leaderboards (have fun while you learn)
Medical education blog articles written by practicing, board-certified medical educators (stay informed)
Work anywhere, anytime on any Internet-enabled device (lifestyle freedom)

Features (benefits) included in administration accounts:

Online assignment manager with performance metrics (drive group excellence, catch outliers)
"Hot Spot" indicators of commonly missing question content (know where to focus)
Group roster performance and compliance dashboards (reduce risk)
Content builder - add your own questions and image content (make it yours)
Custom exam builder (assign custom exams and custom content)
Data exports for reporting (validate progress and prove quality)
Are there any requirements or restrictions?

Outside of the obvious "don't steal or resell our content" and "no sharing of accounts" - not really.

All anyone needs is an Internet-connected (Wifi or cellular) device (Computer, iPhone, etc) with a modern web browser (Chrome, Safari, Firefox, etc)

You don't need any local IT set up, labor, or an "app" loaded. We serve everything online across a nation-wide network of encrypted servers. It's that easy.

.
"Med-Challenger is awesome. Easiest way to have everything I need to ace exams and satisfy annual CME requirements throughout my career. Saves me time, money, and stress every year. Great tools and content with a lasting strategy. Big recommend."
"Love the control over my cohorts' activities. No more paper goose-chases and scores are way up. We hit 100% pass rate again."
"This is a true 'quality of life' solution for healthcare providers. Love it."
"Our program loves having Challenger. Everything we want to do is available, strong pre-built content and easy content authoring. And all the controls for online education programs. A surprisingly robust medical education platform."