Instantly add online distance learning capabilities to your healthcare institution or training program.
Benefits of using Med-Challenger for your group include:
Great Reporting

Easily see much-needed management information across specific classes or your program as a whole.

Assignments & Calendars

Control assignments, target self-directed remediation to remedy outliers, and monitor performance across everyone.

Email & Communication

Easy communication is the hallmark of a great LMS.

Adaptive & Prescriptive Learning

Allows for easy, self-directed learning

Easy to use Custom Exams

Build exactly what you want. Save time every year.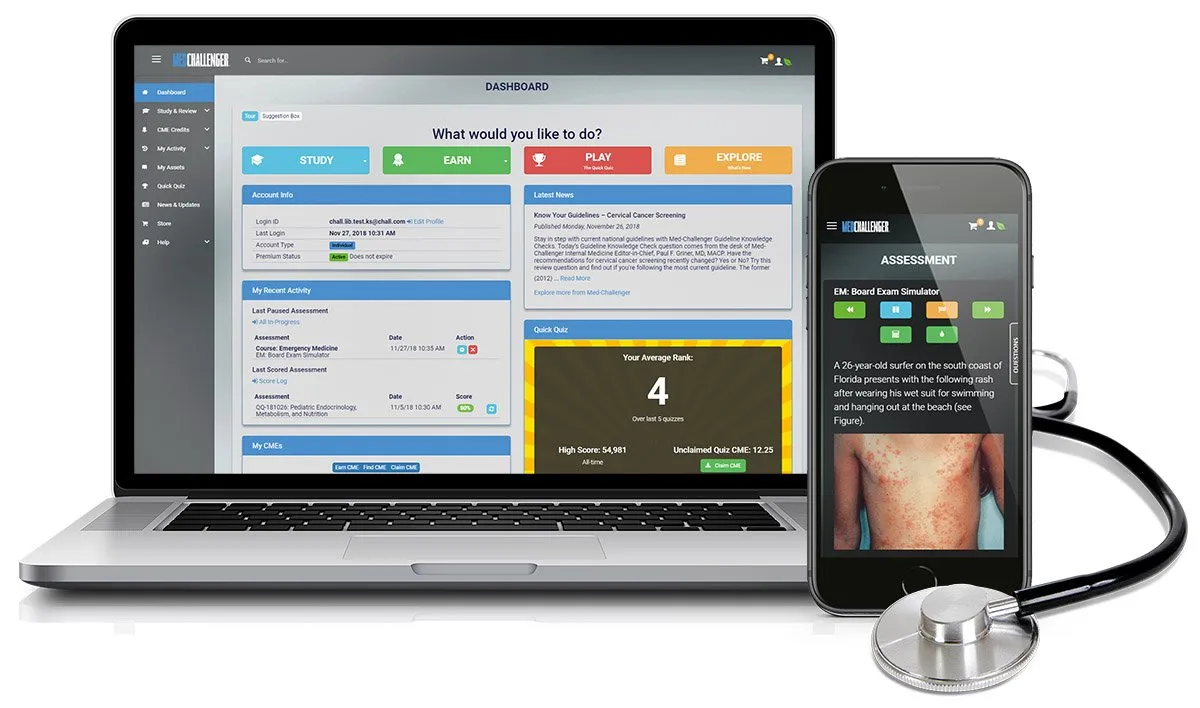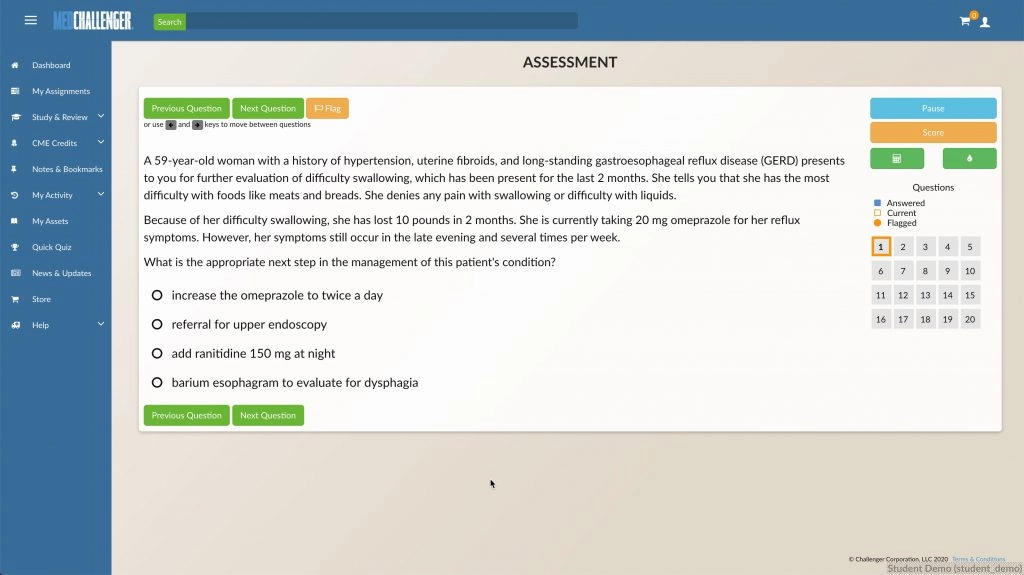 Ready content. Smart assessment. Instant feedback. Instant improvement.
The Med-Challenger Healthcare Education cloud-based medical education SaaS platform is in place at healthcare organizations across the globe. Our platform allows educators and clinical team leaders to quickly deliver education content, knowledge assessment, track activities, remediate individuals, and more - all aimed at improving care and the lives of the team itself.
Our system requires no infrastructure or set up on your end. We support all major clinical specialties as well as required continuing education and maintenance of certification mandates. There are ongoing CME updates and professional perks for all as well.
"It's more than just great content, it's what you can achieve with it."
We've designed Med-Challenger around all the most common education tasks and professional objectives for both learners and practicing clinicians. You'll be able to deliver and monitor on-point education, assessment, remediation, and improve outcomes for all.
Control education content, activities, and outcomes with less labor. Everything is ready to go and hassle-free. Use our peer-reviewed content. Build your own. No technical requirements or maintenance.
Assess Clinical Knowledge
Assess practitioner knowledge quality and get instant feedback for clinical care staffing decisions.
Remediate Knowledge Gaps
Instantly remediate any practitioner in detected "areas of weakness" - without labor.
Keep Clinicians Up-to-Date
Continually updated content, guideline information and case-based CME challenges keeps staff up-to-date.
Save Time, Avoid Disruptions
Eliminate out-of-office MOC and CME travel and keep daily operations running smoothly.
Ensure Compliance
Quickly check on annual MOC and CME requirement compliance across staff members. Prevent surprises.
Add Benefits, Lower Costs
Save faculty and staff personal costs, time and worry by giving them top-quality, on-call, professional education resources.
Performance Reports
Export activity and performance data to popular formats like .CSV
Differentiate Your Group
Promote your commitment to healthcare quality through integrated education and monitoring.
No Content or IT Labor
We maintain all content and technical function, so you can focus on driving results without labor and stress.
Frequently Asked Questions
What is Med-Challenger?

Med-Challenger is a medical education company that provides a suite of top-quality online medical education courses for clinicians, distance learning, knowledge assessment, and risk-reduction solutions for clinical training programs, hospitals, and group practices, and a personal lifelong education strategy for healthcare professionals across all major medical specialties for medical certification exam review, maintenance of certification, and specialized CME requirements. Courses are 100% pass-guaranteed and remain up-to-date and useful - year after year. Features and benefits are intelligent, pragmatic, easy-to-use, and effective. Our medical education service is super flexible and powerful, ideal for:

Medical training programs

- physician residencies, nurse programs, PA programs, medical schools
Healthcare organizations

- large and small
Any healthcare practitioner group

interested in improving education efficiency, clinical care outcomes, and otherwise reduce risk, costs, labor and complexity
What content is available?

Content is available for all major specialties and clinician levels. Content addresses all core topics found in a specialty's practice model and relevant for CME / MOC - perfect for medical training education and exam preparation, staff medical knowledge verification and remediation, practitioner maintenance of certification (MOC) requirements, and other special CME credit needs of your team.

Emergency Medicine
Family Medicine
Internal Medicine
Pediatrics
Physician Assistant
Nurse Practitioner
Urgent Care
Joint Commission CME
State-Required CME
Special CME Requirements
Clinical Skills
HIPAA / OSHA Safety
USMLE / NCLEX / Shelf Exams
Professionalism and Risk
What features are included?

Features (benefits) included in general user accounts:

Intelligent self-assessment / exam simulation with guided remediation (save time in review, score higher)
Topic-based CME modules with Practice and Review (Tutor) modes (study how you want, get it done)
CME credit processing with custom CME certificate output (satisfy requirements easily)
Custom exam builder (create your own self-assessment study program)
Free CME "Quick Quiz" games with peer leaderboards (have fun while you learn)
Medical education blog articles written by practicing, board-certified medical educators (stay informed)
Work anywhere, anytime on any Internet-enabled device (lifestyle freedom)

Features (benefits) included in administration accounts:

Online assignment manager with performance metrics (drive group excellence, catch outliers)
"Hot Spot" indicators of commonly missing question content (know where to focus)
Group roster performance and compliance dashboards (reduce risk)
Content builder - add your own questions and image content (make it yours)
Custom exam builder (assign custom exams and custom content)
Data exports for reporting (validate progress and prove quality)
Are there any requirements or restrictions?

Outside of the obvious "don't steal or resell our content" and "no sharing of accounts" - not really.

All anyone needs is an Internet-connected (Wifi or cellular) device (Computer, iPhone, etc) with a modern web browser (Chrome, Safari, Firefox, etc)

You don't need any local IT set up, labor, or an "app" loaded. We serve everything online across a nation-wide network of encrypted servers. It's that easy.
"Med-Challenger is awesome. Easiest way to have everything I need to ace exams and satisfy annual CME requirements throughout my career. Saves me time, money, and stress every year. Great tools and content with a lasting strategy. Big recommend."
"Love the control over my cohorts' activities. No more paper goose-chases and scores are way up. We hit 100% pass rate again."
"This is a true 'quality of life' solution for healthcare providers. Love it."
"Our program loves having Challenger. Everything we want to do is available, strong pre-built content and easy content authoring. And all the controls for online education programs. A surprisingly robust medical education platform."