How To Prepare for Internal Medicine Boards - 8 Tips to Pass ABIM Exam
2023 ABIM Exam Study Guide
2023 Internal Medicine Board Exam Study Plan
Exam time is approaching, and you're wondering how to prepare for Internal Medicine Boards. Let us help you with that! This internal medicine study guide is full of tips, tricks, and valuable insight into the art of internal medicine board prep and the inner-workings of the exam itself.
Follow these steps and you'll likely pass - and with a higher score!

Internal Medicine Exam Dates
About the Internal Medicine Exam and ABIM Certification Requirements
Standard ABIM Exam Dates
| Exam Date Options | 2023: Aug. 14, 16, 17, 21, 22, 29 |
| --- | --- |
| Registration Dates | Dec. 1, 2023 through Apr. 15, 2023 |
| Late Registration Dates* | Apr. 16, 2023 through Apr. 28, 2023 |
* These exam dates are only offered to candidates who have a documented disability requiring a special testing schedule, as provided under the Americans with Disabilities Act. Please see the ABIM policy on Accommodation for Test Takers with Disabilities.
Special Accommodation ABIM Exam Dates 2023
| | |
| --- | --- |
| Exam Date Options | August 21 - 25 |
| Registration Dates | Dec. 1st 2022 through April 15 2023 |
| Late Registration Dates* | April 16 - 28 |
Other Internal Medicine Exam Dates:
IM-ITE: Thursday, August 17, 2023, to Wednesday, September 6, 2023 (except Labor Day, September 4)
Other Internal Medicine Certification Requirements:
Preparing for the Internal Medicine Board Exam
How to Prepare for and Pass the ABIM exam
Follow these steps to ensure you are prepared for the Internal Medicine Boards.
1. Understand the Structure of the Exam
Step one: Know what material is going to be covered in the exam. The American Board of Internal Medicine (ABIM) publishes an exam blueprint detailing what material is represented on the examination, with the percentage assigned per content category. Keep this in mind going forward to better focus and guide your study sessions.
| | |
| --- | --- |
| Subject | Percentage of Examination |
| Allergy and Immunology | 2% |
| Cardiovascular Disease | 14% |
| Dermatology | 3% |
| Endocrinology, Diabetes, and Metabolism | 9% |
| Gastroenterology | 9% |
| Geriatric Syndromes | 3% |
| Hematology | 6% |
| Infectious Disease | 9% |
| Nephrology and Urology | 6% |
| Neurology | 4% |
| Obstetrics and Gynecology | 3% |
| Medical Oncology | 6% |
| Ophthalmology | 1% |
| Otolaryngology and Dental Medicine | 1% |
| Psychiatry | 4% |
| Pulmonary Disease | 9% |
| Rheumatology and Orthopedics | 9% |
| Miscellaneous | 2% |
| TOTAL | 100% |
The exam also addresses other critical areas in conjunction with the above medical content, known as "cross content categories". Keep in mind that not all questions have a cross-content classification, but it would serve you well to familiarize yourself with the categories as well.
| | |
| --- | --- |
| Critical Care Medicine | 10% |
| Geriatric Medicine | 10% |
| Prevention | 6% |
| Women's Health | 6% |
| Clinical Epidemiology | 3% |
| Ethics | 3% |
| Nutrition | 3% |
| Palliative and End-of-Life Care | 3% |
| Adolescent Medicine | 2% |
| Occupational Medicine | 2% |
| Patient Safety | 2% |
| Substance Abuse | 2% |
The exam is composed of multiple choice questions with one correct answer, most of which describe clinical scenarios. These types of case-based questions will require you to make a diagnosis, identify and issue necessary tests and interpret test results, recommended treatment, and understand the underlying pathophysiology of disease applicable to patient care.
2. Know What to Expect on Exam Day
If you are eligible to sit for the internal medicine board exam, you can schedule it through your ABIM Physician Portal during the open registration window. Test appointments are filled on a first-come, first-served basis by the test vendor, Pearson VUE.
Before Exam Day
A reminder email will be sent two weeks prior to your exam date.
ABIM strictly enforces registration deadlines without exception. Missed deadlines are not subject to appeal.
You are responsible for making your own travel and hotel reservations. Recommendations for overnight accommodations are not available from ABIM or the test vendor.
The exam is NOT open book.
It'll do you good to familiarize yourself with the exam day schedule ahead of time. Knowing what to expect & when to expect it helps ease anxiety and ultimately perform better.
Exam Day Schedule
The Internal Medicine Certification Exam takes approximately 10 hours
The exam lasts one day and is divided into four sessions, each containing up to 60 multiple-choice questions
ACTION
TIME ALLOTTED
Registration
Varies
Tutorial
Optional, up to 30 minutes
Instructions and Pledge of Honesty
Up to 10 minutes
First Session
Up to 2 hours (maximum 60 questions)
Break
Optional, up to 100 minutes (divided between 3 breaks)*
Second Session
Up to 2 hours (maximum 60 questions)
Break
Optional, up to 100 minutes (divided between 3 breaks)*
Third Session
Up to 2 hours (maximum 60 questions)
Break
Optional, up to 100 minutes (divided between 3 breaks)*
Fourth Session
Up to 2 hours (maximum 60 questions)
Optional Survey
Up to 10 minutes
Total
Approximately 10 hours

* You will have 100 minutes of available break time to use during your examination. The amount of break time you use after each test session will be subtracted from the amount of available break time. For instance, if you take a 10-minute break after session one, the amount of break time remaining for the exam will be reduced to 90 minutes.
3. Plan Out a Study Strategy
Take the time to assess the content you need to cover, and portion it out into manageable increments. Once you've grasped the breadth of the material, schedule times throughout your day dedicated solely to the topics and sections you've chosen to focus on. Setting a strict schedule and mapping out a plan of attack from the get-go will not only help you manage time and stress, it also ensures that you cover all relevant material.
Starting with topics that are familiar to you will help get you started and reinforce what you know, as well as familiarize you with your study habits.
10-14 hours per week for 3 months.
It's highly recommended to spend 10-14 hours a week for three or more months. Take a practice exam simulation as see where your weaknesses are. Work through the individual topics of difficulty to master them, then re-assess overall knowledge with larger exam simulations. The best IM board reviews are built for this.
4. Find a Smart ABIM Question Bank
Feedback from successful examinees suggests that seminars are not very useful. Instead, we recommend you choose a board review course that challenges you and requires your active participation.
Exposing yourself to practice exams early on will warm you up to the content you should expect to see on the exam, as well as help you assess your strengths and weaknesses. Be sure your Internal Medicine study guide is mapped to the ABIM Blueprint and offers case-based questions that emulate the Q&A format seen on the actual exam.
Things to keep in mind when choosing an Internal Medicine board review course: As far as board review questions and practice exams go, consider quality as well as the quantity. Insist upon a review that offers thorough, detailed, case-based questions that require involved study and active reading. This is the kind of quality content you're most likely to retain long-term.
Look for lasting value. Once certified, you'll have annual MOC and CME requirements to fulfill. The ability to earn continuing medical education credits while working through a review product is one of the main added values to pass-guaranteed board reviews.
Med-Challenger is a leader in online medical education, offering the best internal medicine board review. Boasting over 1,700 detailed, challenging case-based questions following the ABIM exam blueprint, built-in Internal Medicine CME & ABIM MOC resources, and a 100% pass guarantee, you can't go wrong.
Premier ABIM review courses also provide the ability to earn ABIM MOC Points - an annual ABIM MOC requirement - while you study. This sets you up nicely after you've passed exams.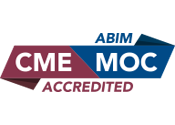 5. Practice & Re-Practice
I start this tip off with a word of advice: As you work your way through review courses and practice exams, expect to fail. Answering incorrectly may be one of the most effective learning tools at your disposal, as it requires remediation, which in turn reinforces learned information and improves recall through active engagement.
"The only real mistake is the one from which we learn nothing." Henry Ford
Never expect to get by knowing only the bare minimum. Simply working your way through all content areas relevant to the ABIM Exam Blueprint will not be enough. In times of stress, you don't rise to the occasion - you fall to your highest level of preparation. Go back - do it again. The goal is to assess your strengths and weaknesses. Identifying your knowledge gaps early in the process frees up time for the actual study and review.
6. Identify & Attack Weak Areas
Once you've worked your way through the entirety of your study material several times and familiarized yourself with what areas you are and are not confident in, it's time to focus on the relevant material with which you are least comfortable and familiar.
Consider leaning on an adaptive assessment / prescriptive learning platform, like Med-Challenger. With adaptive learning, not only are you assured to properly utilize all materials available, your time is spent exactly where it needs to be spent with every use, thereby producing a more effective individual review, with no wasted value, all in less time.
And remember: Always keep the ABIM Exam Blueprint in mind!
7. Treat Your Body Right
Preparing for IM boards will push you to your limits – you will be stressed, burnt out, and oftentimes exhausted. But like they say: It's a marathon, not a sprint. In the long run, it won't do you any good to sacrifice your physical and mental well-being.
At least every 3 hours, allow yourself a break to relax and unwind. Stay hydrated throughout the day. Remember to eat and nourish your body with healthy meal options. Exercise will help maintain healthy circulation and oxygenation to your brain. Take some time to meditate. And perhaps most importantly, maintain a healthy sleep schedule, especially the week before your exam.
8. During the Exam
The ABIM board uses multiple-choice questions that have one best answer. These items have a "stem" that presents the background information necessary for answering the question, which usually comes at the end of the stem. Be sure to read the stem carefully. As you proceed, make note of information that seems especially relevant. Read every answer option carefully. First use the process of elimination to filter out what you know is incorrect, and go from there.
Focus on addressing each question individually. Take a deep breath every now and then.
If you are completely stumped by a question or unsure you answered correctly, flag it and come back later. That having been said, also consider that the first thoughtful answer an examinee makes is usually the best answer. Second-guessing yourself is not likely to help your performance unless you fully realize that you've misread or misunderstood the question. This will help you maximize your time.
Long answers + language match = 😉
Board exam questions usually have tell-tale indicators of what the correct answer option is likely to be. Typically, correct answers tend to be a bit longer and echo language and exact details used in the question stem.
We understand the pressure you're surely experiencing knowing the fate of your future career rests on a comprehensive understanding of challenging exam material and peak test performance.
Here's the bottom line: You need to ace the internal medicine board exam, & we at Med-Challenger can make that happen. Our Internal Medicine Board Review Course has everything you need to practice the various test scenarios you will face during your exam. It's 100% pass-guaranteed with a 99.8% pass-rate.
What's more? Our ABIM board review course also doubles as an ongoing knowledge refresh, MOC requirements aid, and CME credit resources - not just for today, but for every year of your future practice. Begin your full free trial today!