What Topics Are Covered Most Deeply on the Internal Medicine Exam
Challenger's courses approach boards study as a blueprint-based function, our exam simulators pull random unanswered questions (or one's you've gotten wrong) in the same percentage as the ABIM blueprint. But sometimes it's helpful to stand that on its head.

What topics are covered most heavily on the ABIM exam, and what presentations do you need to know?

Cardiovascular is 14% of the exam. Or grouping together cardio, pulmonary, and gastro, and that's a third of the exam score. So what are the highest yield areas? (Hint: it's not 'Miscellaneous').
2023 ABIM General Internal Medicine Blueprint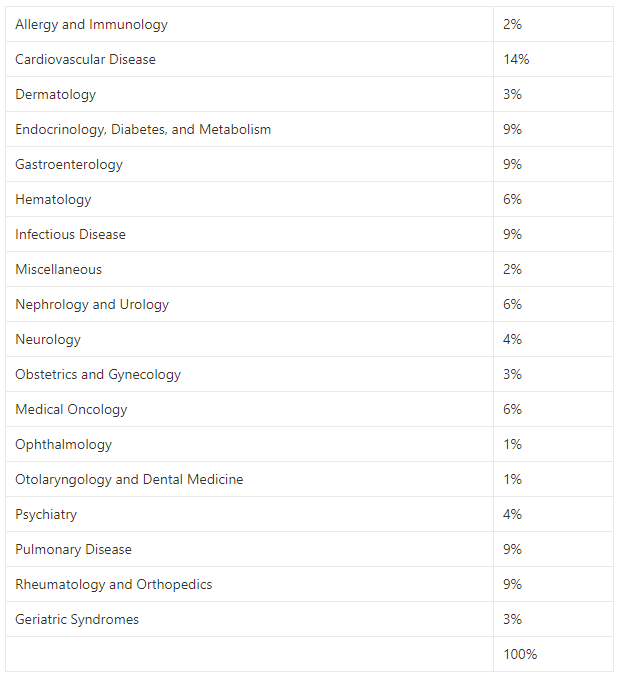 Three quarters of the questions are going to be case-based patient presentations. You know the sort:
A 68-year-old female patient presents to the emergency department with a 4-week history of worsening dyspnea, cough, and low-grade fever. She has a past medical history of hypertension and is a former smoker, having quit 15 years ago. Her oxygen saturation is 90% on room air, and her respiratory rate is 28 breaths/min. A chest X-ray reveals diffuse bilateral infiltrates. Lab tests indicate elevated levels of C-reactive protein and erythrocyte sedimentation rate. She reports no recent travel or exposure to sick contacts.

What is the most likely diagnosis for this patient based on the given information?
Chronic Obstructive Pulmonary Disease (COPD) exacerbation
Interstitial Lung Disease (ILD)
Community-Acquired Pneumonia (CAP)
Pulmonary Embolism (PE)
Tuberculosis (TB)
And you know the type of reasoning they're looking for you to go through in your head:
Option A: COPD Exacerbation - While the patient is a former smoker, the acute symptoms and elevated inflammatory markers are not typically characteristic of a COPD exacerbation.

Option B: Interstitial Lung Disease (ILD) - The age and symptomatology align, but the acute onset and elevated inflammatory markers suggest something more acute in nature.

Option C: Community-Acquired Pneumonia (CAP) - Most likely, given the fever, elevated inflammatory markers, and bilateral infiltrates on the chest X-ray.

Option D: Pulmonary Embolism (PE) - Though she has risk factors such as age and a history of smoking, her primary symptoms are more respiratory and infectious in nature, making PE less likely.

Option E: Tuberculosis (TB) - The absence of specific exposures or risk factors, such as recent travel, makes this unlikely.
The answer to what topics are covered most deeply?

Start with the cardio, pulmonary and gastroenterology group - and study the disease presentations. Customize your study plan to examine each of the subtopics, and the disease-specific presentations (there's around 50 just in cardiovascular). The better you know the presentations and disease specific items for each category, the better you are going to handle the case presentation style.
---
Med-Challenger can prepare you for the Internal Medicine Boards Prep, as well as handle MOC needs with Med-Challenger Internal Medicine.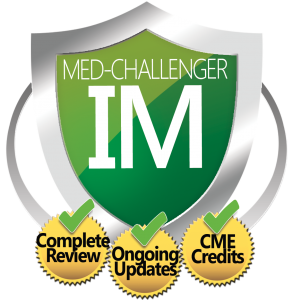 ---